Exterior Painting in Pompano Beach, FL
Watson's Painting & Waterproofing Company proudly offers Exterior Painting in Pompano Beach Florida.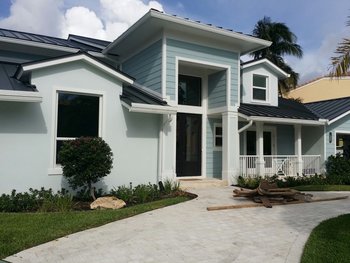 We can paint any exterior item in Pompano Beach! Our Pompano Beach exterior painters will paint your shingles, siding, deck, doors, eaves, porch, and railings. We can paint the exterior your Pompano Beach garage, shed, fence, and light posts. We even paint metal, such as sliding doors, windows, and metal railings. If its in Pompano Beach exterior painting is an extreme possibility.
If you have ever tried painting the exterior of your Pompano Beach FL home or business, you know that its not an easy task. Exterior Painting in Pompano Beach FL is both an art and a skill.
That's why Watson's Painting & Waterproofing Company's professional Pompano Beach exterior painters must have several years of experience painting the exteriors of Pompano Beach homes and Pompano Beach offices and be familiar with Pompano Beach's various construction materials and exterior architectural styles.
When it comes to cost-effective quality exterior painting in Pompano Beach, FL, Watson's Painting & Waterproofing Company is the exterior painter Pompano Beach residents and Pompano Beach business owners trust.
---
WHAT CUSTOMERS ARE SAYING:
"Watson Painting has recently completed Haven House #4, located at 130 E. Sample Rd., Pompano Beach, FL. I am happy to recommend this company to other condo associations. They did a quality job, on time and within the original budget. Barrington, one of the principals, was on the job daily and make sure the workmanship was of the highest standards. If you have nay questions please feel free to call me at 954-663-7369."
Eve Smith, Property Manager, Pompano Beach, FL
---
5 ★★★★★ - "I hired this company, "Watson's Painting and Waterproofing" 4 months ago to paint the exterior of my house. I must say, Barrington was a pleasure to work with. He is jovial, friendly, and has an upbeat personality that will put a smile on anyone's face. For those of you who have worked with him, you know what I mean! Not only did he paint the exterior of my house, he pressure cleaned my roof and it is the best pressure cleaning I had on this home to-date. I had pressure washing companies do my roof before and the roof got dirty in no time. Barrington cleaned my roof properly and going on five months later, my house and roof looks impeccable. I had contractors compliment the paint job and the roof. I usually don't do a review quickly, I like to wait and I must say I am happy and satisfied with his services. He is on top of the game."
Alice in Fort Lauderdale, FL
---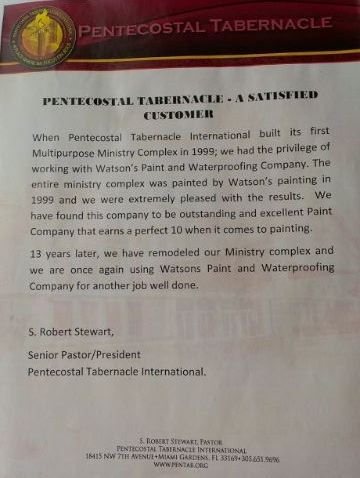 Exterior Painting of Multipurpose Ministry Complex in Miami Gardens, FL
When Pentecostal Tabernacle International built its first Multipurpose Ministry Complex in 1999; we had the privilege of working with Watson's Paint and Waterproofing Company. The entire ministry complex was painted by Watson's painting in 1999 and we were extremely pleased with the results. We have found the company to be outstanding and excellent Paint Company that earns a perfect 10 when it comes to painting.
13 years later, we have remodeled our Ministry complex and we are once again using Watson's Paint and Waterproofing Company for another job well done.
S. Robert Stewart,
Senior Pastor.President
Pentecostal Tabernacle International.
---
Anonymous, Drywall Repair in Deerfield Beach, FL
2017-12-13
---
Call for FREE Exterior Painting Quote
---
Exterior Painting available in the following Pompano Beach, FL zip codes:
33060
33061
33062
33063
33064
33065
33066
33067
33068
33069
33071
33072
33073
33074
33075
33076
33077
33093
33097